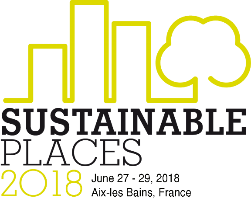 Intro & Background
Sustainable Places (SP) annual international conference series for 5 years (2013 – 2017) has brought together each year between 100 and 150 attendees ranging from industrial executives, scientists, researchers, and engineers – from academic and technical institutes and from leading organizations from around the world to advance one of the greatest challenge that our societies and their urban planners have ever faced: The need to enhance the sustainability of places ensuring long-term environmental security. SP fosters lasting market impacts, and has become a reference European event and proven platform where theory meets practice, unlocking new linkages between data formulation and the underpinning theories, cases, observations, and validated hypotheses arising from the analysis of that data. 
The Sustainable Places 2018 (#SP2018) event facilitates innovation pathways for advances to the state of the arts in all aspects of renewable energy sources integration within construction, operation, maintenance, and refurbishment of energy-efficient buildings (architecture, materials, control, etc.), smart homes (energy storage, IoT, demand response, etc.), and existing power grid infrastructure. SP2018 accepting contributions that show clear advances in: innovative business models and technologies; data models, semantics, and interoperability; modeling and simulation, monitoring and control; key performance indicators, and/or evaluation frameworks. Specifically, the most popular presentations will acknowledge the interdisciplinary nature of communities and districts, and the necessary collaboration between various stakeholders and underlying technologies.
 SP2018 Contribution Types
SP2018 CfP (subject to updates) accepts the following contributions types. All proposals should be completed using the below application and indicate the type of session you are requesting as well as if multiple contribution types are requested (up to 3 per registered attendee).
Papers – a

 30 minute presentation to be showcased via PPT during a thematic session at the conference + a 4 page paper (+/- 2,000 words) due after the conference. If not invited for extension to potentially be included in one of the SP2018 journal special issues, based on subject relevance, the 4-page paper shall be immediately

 published in the SP2018 conference proceedings (published by MDPI AG). One co-author or proxy must attend. In the CfP, authors can but are not required to suggest which journals they would like to be considered for.
Briefings – a 30 minute presentation (PPT only, no paper required) to be showcased during a thematic session. Content may include either mature or early-stage projects, initiatives, organizations, or otherwise advances to the state of the arts within the conference topics. One co-author or proxy must attend to deliver the PPT, and a 4-page extended abstract will be published immediately following the event by MDPI AG in the SP2018 Proceedings.
Workshops – 1,2,3, or 4 hours.  Designed to engage SP2018 attendees in a productive interaction, demonstration, or tutorial, and to produce specific outcomes or demonstrate interactive results. At least three chairs must attend. Workshop chairs will be able to publish a 4-page extended abstract (report) immediately following the event by MDPI AG in the SP2018 Proceedings.
Posters – s

cientific and technical posters or media installations will be presented in the exhibition area where delegates gather for networking and refreshments several times throughout the symposium (27th & 28th June, 2018).  Poster authors will be able to publish a 4-page extended abstract immediately following the event by MDPI AG in the SP2018 Proceedings.

Keynotes – executive speakers can be proposed and will be invited to deliver presentations to all attendees at either the opening (morning of 27th June) or closing (afternoon of 28th June) ceremonies. Their PPTs shall be uploaded following the conference for public consumption.

SP2018 Timeline
CfP submissions due for all contribution types: 1st March 2018
Acceptance of proposals sent to authors: 15th March 2018
Early-bird registration period: 15th March 2018 – 1st April 2018
Late registration period: 1st April 2018 – 26th June 2018
SP2018 Symposium: 27th June 2018 – 28th June 2018
SP2018 Local pilot site visits: 29th June 2018 – 28th June 2018
SP2018 Publication management: 1st July 2018 – 31st December 2018
---
SP2018  is coordinated by brand-owner CEA Tech (specifically CEA List, and  CEA Liten), managed by R2M Solution, and co-hosted by INES (The National Solar Energy Institute of France) and University Savoie Mont Blanc (Chambery campus). All attendees should book hotels in Aix-Les-Bains, and on 29th June will be invited to visit local pilot sites or take part in nearby demonstrations that showcase related initiatives and technologies. Further practicalities found on the registration page, but for questions or concerns about any aspect of SP2018 or previous editions of SP, please don't hesitate to contact Zia[.]Lennard[@]R2Msolution[.]com