SP2018 Registration Process:
Upon acceptance of a submitted CfP application (DOWNLOAD LINK: SP2018_CfP-draft_03-Sept-2017), the next step is to plan travel and register for the SP2018 event by emailing Zia Lennard, the Sustainable Places delegate manager and lead organizer, at Zia.Lennard[@]R2Msolution.com to request an invoice based on the registration type as displayed below. Hotel and airport recommendations shall be made available shortly.
SP2018 Fee Schedule:
The SP2018 Organising Committee requires one registration per accepted contribution type, except for workshop chairs whereby at least three people must commit to attendance. Selected authors will be provided with further guidelines for contribution formatting, registration, and otherwise upon CfP acceptance. Paper submissions will be reviewed (blind refereeing) prior to the acceptance of the contribution & prior to publication. The fees for attending SP2018 are used for catering and publications, hereby listed as follows:
SP2018 Registration type

Early-bird Fee

(before 1st April)

Late Registration Fee

(1st April – 26th June)

Regular, TPC members or previous SP attendees*
€400
€450
Multiple attendee registration **
€350
€400
Full-time students, non-profit or govt. employees ***
€250
€300
* TPC (Technical Programme Committee) members eligible must be from either SP2016, SP2017, or SP2018 events.
**More than 3 attendees from a single company or EU project / More than 5 attendees from accepted workshop chairs
***Must prove status by using the official email address or in the case of students show a current full-time class schedule
---
SP2018 Venue
SP2018 will be held at:
University of Savoy ("Savoie Mont Blanc University")
Telephone: +33(0)4 79 75 85 85
Address: 27 rue Marcoz 73000 Chambéry, France.
See the map
INES Solaire – Center for research and training on solar energy and building
Telephone: +33(0)4 79 79 20 00
Address: Technopôle Savoie technolac, 50 Avenue du Lac Léman, 73370 Le Bourget-du-Lac.
See the map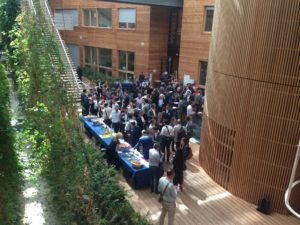 The idea for INES Solaire, a National Solar Energy Institute can be traced back to 1998 when local politicians, most notably Michel Barnier and Jean-Pierre Vial, realized the importance of creating a center of reference for solar energy. The project began to take shape in 2005 with the convergence of four determining factors: the unshakeable support of local politicians (Département of Savoie and Rhône-Alpes Region), the expertise of local associations, including 20 years of unique work by the ASDER (Savoie Association for the Development of Renewable Energies), the long-term presence of pioneering companies in the field (Clipsol, Photowatt, etc.), and the investment of major research laboratories, led by the CEA, CNRS and University of Savoie. Today, all of INES's partners are represented on the institute's steering committee, which is responsible for governing the institute under the co-presidency of the two local authorities (département and region).
---
Letters of Invitation for SP2018
Letters of Invitation for SP2018 can be issued to registered delegates upon request. It is the delegate's responsibility to investigate the visa requirements for France and apply for a visa, if necessary. Short-stay visas may be required for travelers who are not nationals of France or certain visa-exempt countries. This visa allows a person to visit France on a temporary basis for tourism or business purposes for a period of 90 days or less. It must be applied for from the relevant French embassy or consulate in the delegate's country of residence.
---
Questions can be directed to Zia.Lennard[@]R2Msolution.com