SP2018 site visits will include a tour of Energy Pool and at the Schneider Electric Industries campus in Grenoble Peninsula.
Energy Pool is a global leader in energy management & demand response for Industrial and commercial electricity end-users. Energy Pool was born in Savoie Technolac, the leading French cluster specialized in energy. The Savoie Technolac network currently gathers on the same area 230 innovative companies from the energy sector, including:
The world's 3rd largest R&D facility in solar & smart grid, French National Solar Energy Institute (INES)
The international reference on hydraulic engineering, EDF Hydraulic Engineering Center.
Savoie Technolac community also gathers more than 1 000 researchers and 5 000 students. To read more about Energy Pool: https://www.energy-pool.eu/en/
PLEASE BE ADVISED that only the first 25 delegates of SP2018 will be allowed to visit Energy Pool, a signup sheet will be distributed prior to the SP2018 conference in June.
---
Schneider Electric (Grenoble campus)
On 29th June 2018, Sustainable Places 2018 (SP2018) delegates will be provided with transportation to and from Aix-Les-Bains, and given the unique opportunity to visit the Schneider Electric campus in Grenoble. This campus includes energy-efficient buildings that are highly productive and flexible, ensuring the optimal well-being of occupants and low-energy usage due to ongoing installations of embedded technologies for applications such as room control and differentiated monitoring.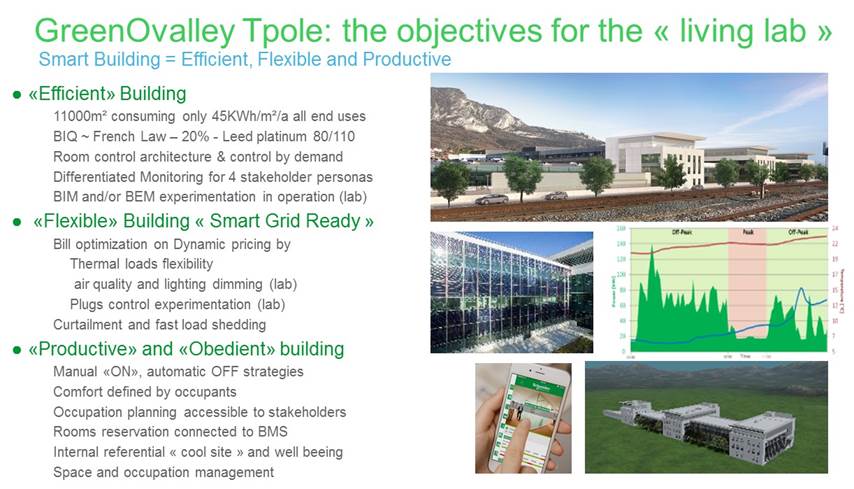 ---
For questions regarding the pilot site visit, please contact the Sustainable Places chair and delegate manager, Zia Lennard – via email at: Zia.Lennard[@]R2Msolution.com