Renewable Heating and Cooling Solutions for Buildings and Industry Workshop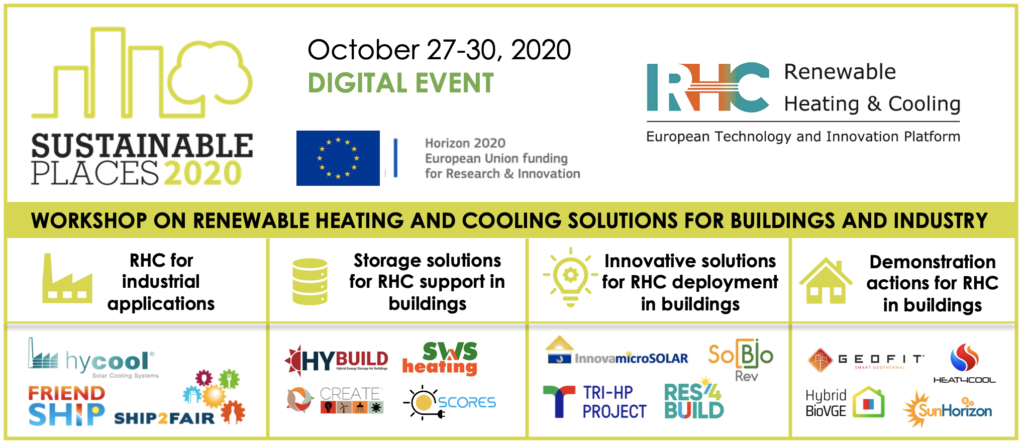 Renewable energy technologies for heating and cooling are safe, clean, efficient and increasingly cost-competitive. In its vision 2050 prospective document, the European Technology and Innovation Platform on Renewable Heating and Cooling – RHC ETIP – envisions that 100% renewable energy-based heating and cooling (100% RHC) in Europe is possible by 2050.
This workshop will bring together a selection of H2020 EU-funded projects involving experts from the biomass, geothermal, solar thermal and heat pump sectors to discuss a common strategy for increasing the use of renewable energy technologies for heating and cooling for buildings and industry.
Participating projects : SWS-Heating – HYBUILD – CREATE – TRI-HP – HYCOOL – SHIP2FAIR – SUNHORIZON – Heat4Cool – GEOFIT – SCORES – Innova microSolar – Hybrid BioVGE – RES4BUILD – SolBioRev – FRIENDSHIP
Chair of the workshop: Andrea Frazzica (CNR ITAE) 
Participating European Commission representative: Eleftherios Bourdakis, Policy Officer, DG Research & Innovation