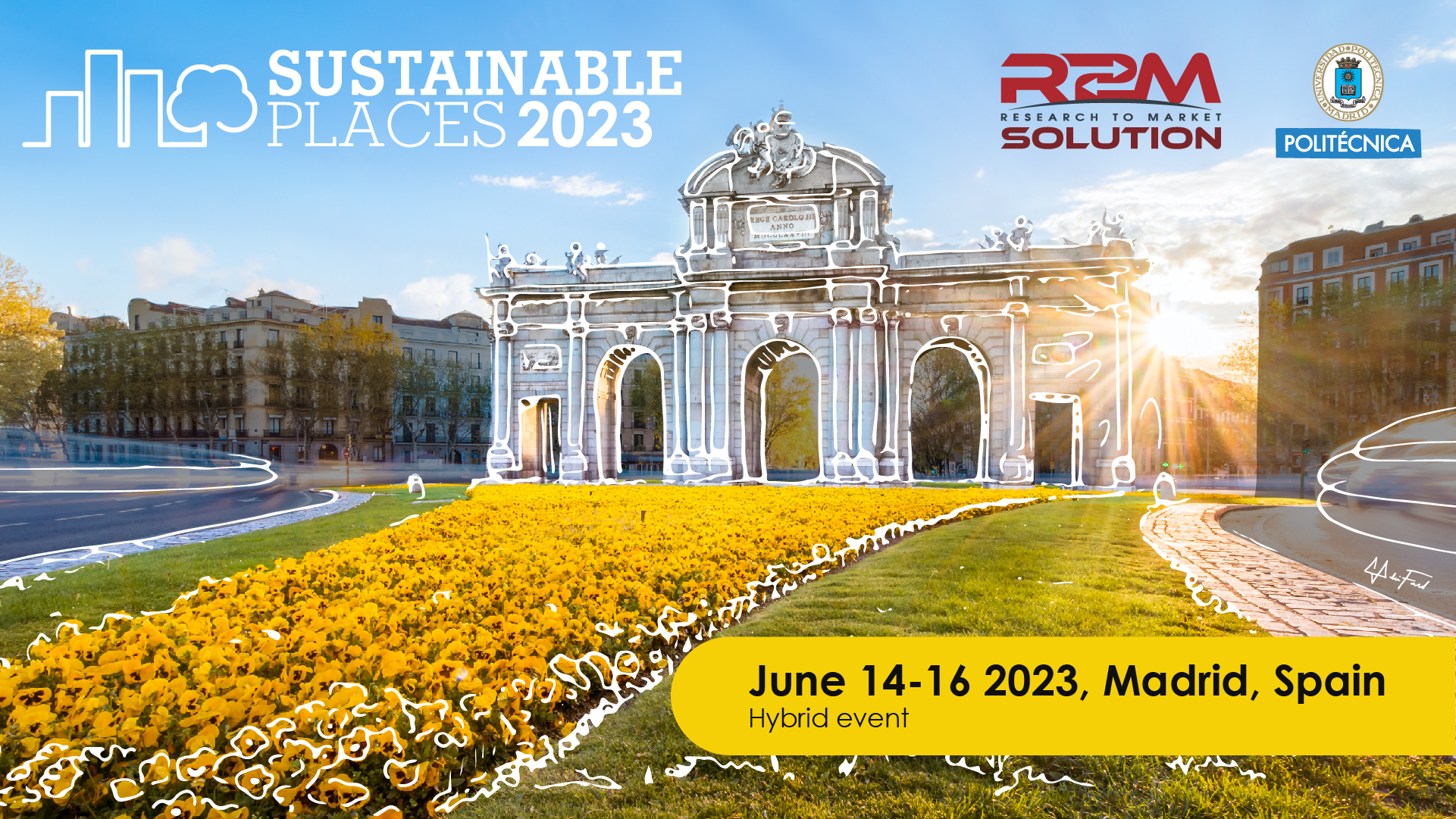 Europe's #1 destination for EU research collaboration and market opportunities
The 11th annual edition of Sustainable Places (SP2023) is a

hybrid event

, from 14th to 16th June 2023, with the in-person sessions hosted in Madrid, Spain.  
Sustainability targets and climate change objectives cannot be met without addressing buildings and the built environment at the building, district and urban scale to include our transport and energy infrastructures. Renowned for showcasing results coming out of the EU Horizon 2020 and EU Horizon Europe Framework Programme via the participation of cutting-edge research and innovation projects, the scope of Sustainable Places is captured directly in its name. It involves designing, building and retrofitting the places we live and work in a more sustainable way.
Sustainable Places prides itself on being an ideal platform for the dissemination of research, the conduct of workshops, EU project clustering and networking between stakeholders of all types. SP2023 will be held over three days in a hybrid (digital + in-person) event format. Between opening and closing keynote sessions, parallel technical sessions and project-organized workshops will explore the various conference themes. Given world events we encouraged submissions on technology transfer, renewable energy implementations and energy security with the aim of facilitating actions that increase the rate of renovation and renewable energy implementations.
Each year, Sustainable Places features topics that are shaping how we think about cities and the built environment. Across all editions, Sustainable Places is open to all topics related to building sustainability and most often reflect priorities described in the European Commission Societal Challenges and the United Nations Sustainable Development Goals.
This year we propose the following list of themes. These themes are non-exhaustive and proposals received on other topics related to sustainability will also be examined:
Energy Communities, Smart Cities and Urban Transition

Renewable Energy Technologies

Sustainable Construction & Renovation

Decarbonization & Circularity, Climate Change mitigation and adaptation.

Facilitating the energy transition: Policy, Finance, Training

Sustainable Urban Renewal & Cultural Transformation

Digitalization, Smartness & Artificial Intelligence

Resilience and Energy Security
Plenary Opening (6 Sep) | "Innovate with France"
An invitation to partner with French innovators, alongside  Region Sud, and Nice Côte d'Azur. With keynotes from the European Commission, the French Ministry of Sustainable Development, the Mayor of Nice as well local and regional industrial innovation clusters, this session included an Info Day to present a relevant selection of upcoming EU funding opportunities through Horizon Europe and LIFE calls. 
The event was followed by a networking session and welcome cocktail, allowing the international Sustainable Places community to connect and  co-create research and market opportunities within the vibrant French clean-tech and sustainability ecosystem.
Plenary session (7 Sep) | "Innovate with Monaco"
As a destination committed to sustainable development for decades, the Principality of Monaco has pursued a strong policy on sustainability-related issues both nationally and internationally. This "Innovate with Monaco" session highlighted the long-term commitment of the Principality to help meet the Sustainable Development Goals, inviting a selection of Monegasque SMEs to pitch their sustainable innovations and showcase progress from digital twin and artificial intelligence SMEs acting on urban scale challenges similar to Monaco. Please click on the picture below to see its full agenda.
Registration's fares and deadlines are already out.  You can attend in-person or online.
The tickets available are:
In-person ticket

: it includes full access during the three days of the event to all the sessions, lunches and coffee breaks, gala dinner and to the side events. 

Virtual presenter

: it includes full access to the online platform where you will be able to create your own user, to interact with other users, and to moderate your own session.

Virtual guest

: only for non-speaker registrants. It includes full access to the online platform where you will be able to create your own user, to interact with other users, and follow-up all sessions of the conference.
This year we are offering additional services to help you promote your session:
Workshop Boost Package

: it includes 50 online passes to invite relevant stakeholders to your workshop (which will have access to the entire conference), and an edited video of the session to disseminate the projects. We will also promote your workshop through Sustainable Places' channels.

Poster service: send us your roll-up poster and we'll take care of printing and displaying it throughout the entire duration of the conference. Afterwards it is yours!  The requirements for the service are: – Size: 85x200cm – High quality image in PDF file (64 mb maximum size) – Deadline to send the file: 31st May (to sustainableplaces@r2msolution.com)
Extra gala dinner tickets: in case you want to invite someone or if you don't have full access to the conference.
Please be advised:  The Early bird in-person registration (550€) deadline is until the 23rd of April, 2023. Starting on the 24th of April, the in-person rate will increase to 650€ until the 14th of May. From the 15th of May, the in-person Late fee will cost 750€ until registration closes at midnight on the 31st of May, 2023. For questions please write to sustainableplaces@r2msolution.com.
Submissions to SP2023: our call for proposals closed on May 14th
In case you couldn't submit your proposal on time, please contact us at mailto:sustainableplaces@r2msolution.com inserting this questionnaire filled. We will study your requests on a case by case basis, taking into account agenda & on-site room availability constraints.
For workshop organisers, you are invited to keep us updated with changes related to the workshops you are organising (e.g. new projects / participants joining) so that we can update your workshop promotional page accordingly.
Thank you!
Publication Opportunity: ORE
Sustainable Places is pleased to announce its partnership with Open Research Europe (ORE), the open access publishing platform for the publication of research stemming from Horizon 2020 and Horizon Europe funding across all subject areas. ORE makes it easy for Horizon 2020 and Horizon Europe beneficiaries to comply with the open access terms of their funding and offers researchers a publishing venue to share their results and insights rapidly and facilitate open, constructive research discussion.  Peer-reviewed articles are optional, they can be submitted by any SP2023 contributor whose contribution was associated with an EU-funded project under Horizon 2020 or Horizon Europe calls, and it will be published by ORE in a specific collection dedicated to Sustainable Places 2023. Articles can be published in various formats such as Research Articles, Brief Reports, Data Notes, Method Articles, Software Tool Articles, Reviews, Case Studies or Open Letters. More information can be found on the Article Guidelines for the article type you would like to submit. If you're unsure which type of article their paper might be classed as, you can send it to the SP organizers and they'll assist in choosing the correct article type.
Articles must meet the following eligibility criteria: (i) At least one author must be involved in a running or finished Horizon 2020 or Horizon Europe project from the European Commission, and the article must be a result of that project. (ii) The article must be an original work (see section on Originality). More information can be found on ORE Policies.

Sponsorship Opportunities
SP2023 sponsors had the opportunity to position their brand in this unique event at the crossroads of European Research and market implementation in the sustainable built environment. The sponsorship program is available for download : English version |  Spanish version. This year's sponsors will benefited from increased visibility with conference growth, professional media coverage, profile appearance in the agenda, coverage in the conference newsletter, coverage in social media and allocation of a digital booth during the event on the event platform Hopin. Sponsorships were also possible for the social program and meal events. Sponsorships make it possible to increase event user experience and to invite additional guests or participants to the event that our core audience are trying to reach.
The Sustainable Places 2022 Post-event photo book is available for download and viewing on Issuu. The book narrates the workshops held in Nice during SP2022, the parallel sessions and networking activities, in addition to some testimonials from the organizers and attendees and the sponsors and participating projects. Buildings Journal special editions were published from SP2019, SP2018, and SP2017, Proceedings editions were also published from SP2021, SP2020, SP2019, SP2018, and SP2017 and the SP2022 collection was published in ORE.
We are excited to announce that Sustainable Places has partnered with BUILD UP, Europe's largest international portal for energy efficiency and renewable energy in buildings.
BUILD UP aims to bring together stakeholders working in the building sector to reap the collective intelligence about energy reduction in buildings by encouraging knowledge exchange.
The BUILD UP portal is updated daily reaching around 120 new items each month including news, events, publications, articles, and video content. The editorial work is organized around a Topic of the Month, and BUILD UP produces overview and technical articles, interviews with experts, webinars, and more under each monthly topic.
BUILD UP is also a community and by becoming a member, it is possible to contribute by uploading content such as news, events, publications, and more. By contributing content, BUILD UP can help its community to reach a broader audience through our online portal, social media channels, and monthly newsletter.
A team of BUILD UP representatives will be present at Sustainable Places in Madrid, filming "Expert Talks". You can take this chance to network with them. And if you are interested in being showcased as an expert, let us know at sustainableplaces@r2msolution.com.
Commitment to Sustainability
Sustainable Places 2023 tree pledge
The Sustainable Places 2023 Organising Committee through LifeTerra has adopted the first 1.000 trees to help offset the impact of the organisation and associated travels of the conference. Each of the registrants at the event is contributing to plant trees in La Junquera, Murcia, Spain as a percentage of the tickets goes directly towards this project.
You can help adopt more Junquera trees to support this project and other restoration projects throughout Europe. Any small contribution will contribute to saving the planet. 
Do you want to help us make a greener world? Adopt your tree now! 
ETSAM: Escuela Técnica Superior de Arquitectura de Madrid (UPM)
The 2023 Sustainable Places Conference will be held at the  Escuela Técnica Superior de Arquitectura de Madrid, from the Universidad Politécnica de Madrid.
The Universidad Politécnica de Madrid (UPM) is the oldest and largest of all Technical Universities in Spain. It has more than 3,000 faculty members, around 35,000 undergraduate students, and over 8,000 graduate students.
UPM is made up of 21 Technical Schools and Faculties, including the Architecture Faculty (ETSAM). 
UPM graduates around 5,000 students every year, of which 20% have participated in one of the existing international mobility programs. For cultural and historical reasons, UPM has especially strong relations with European universities.
UPM has a strong commitment to Research and Innovation. Participation in competitive European and National research programs provides 40% of the sponsored research funds, and research services and contracts with the industry supply the rest.
UPM ranks first among Spanish universities in the European Union R&D funding, having around 15% of the total number of the European Union funded projects such as the Framework Program, EUREKA and ESA (European Space Agency) held in Spain.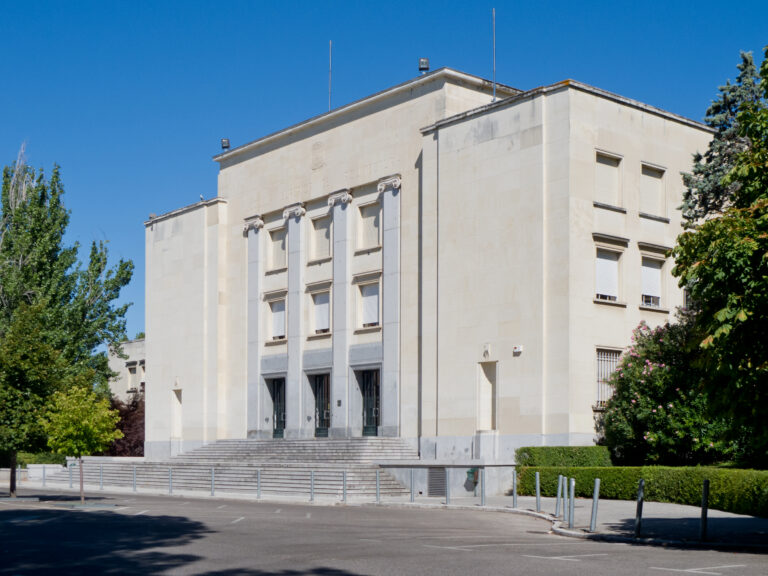 Digital platform and Virtual Booths - Hopin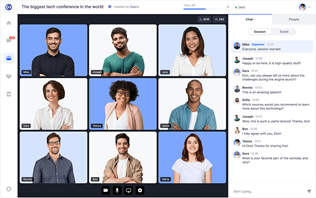 Digital participants of SP2023 will use the Hopin platform for online participation and virtual networking, including live chat dialogue during the sessions. When sharing slides, presenters should choose to share their "entire screen" and then put their slides in presenter mode. The speaker will only see their slides but the audience will see both the speaker and the slides. For "virtual booth" setup (one per project), registered SP2023 speakers can send this info no later than 10th June to sustainableplaces@r2msolution.com.
Digital Platform and Virtual Booths - Hopin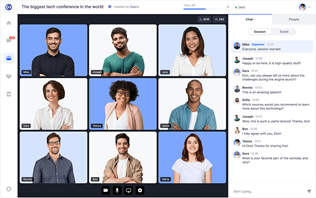 Digital participants of SP2021 experienced Hopin.  The platform features a "Stage" area, breakout sessions channels for workshops and a networking area for meeting participants. Running chat dialogue during the workshop made the sessions more interactive and "live." All sessions will be made available as video recordings following the conference. For "virtual booth" setup (one per project or speaker), registered SP2022 speakers were able send this info no later than 1st September to sustainableplaces[@]r2msolution[.]com.
Social Dinner at Le Negresco
To celebrate the 10th anniversary of the SP conference we have arranged the social dinner at Le Negresco hotel on the Promenade des Anglais. Le Negresco has been a quintessential monument of the French Riviera for over a century, owing its well-earned reputation to the hotel's notable collection of artwork and period furniture with over 6,000 references. From salons dedicated to Louis XVI or Napoleon III to Venetian "Street Art" rooms, guests can discover a unique selection of French artwork from the 17th century to present day. The hotel has obtained the European Eco-label, "Living Heritage Company" certification , and is also recognised as a part of UNESCO "Nice Patrimoine Mondial".
Every in-person registration came with one social dinner ticket included. We welcomed guests of delegates to join the SP2022 social dinner, extra tickets were available to purchase on the conference registration page.
Networking Lunch at La Vela
Partnership with OKKO Hotel
We have arranged for a €95/night special guest rate at OKKO Hotel in Nice, breakfast included. This brand new 4-star hotel is conveniently located in the heart of Grand Arénas, the Côte d'Azur's new international business district, very close (10 minutes walk) to the airport. The tram will connect you to the conference venues and to the city's main landmarks. A limited number of rooms with this rate have been booked and will be allocated on a first come, first served basis. We advised you to book your stay as early as possible, given that September is high season for tourism.
To book and receive the special guest rate, please email adj.nice0602@okkohotels.com or call +33 4 86 80 29 30 (Contact : Arthur Delestre) and mention that you're attending Sustainable Places. Private project meeting rooms (up to 35 persons) were arranged at a special rate of 130€ for half-day use. Please contact the hotel as early as possible since available slots are limited.
https://www.explorenicecotedazur.com/preparer/hebergements/hotels/
Sign up for the Sustainable Places newsletter so as to not miss any further updates.
Enter your information to subscribe.
Your e-mail address is only used to send you our newsletter and information about the activities of Sustainable Places (SP).
You can always use the unsubscribe link included in the newsletter.